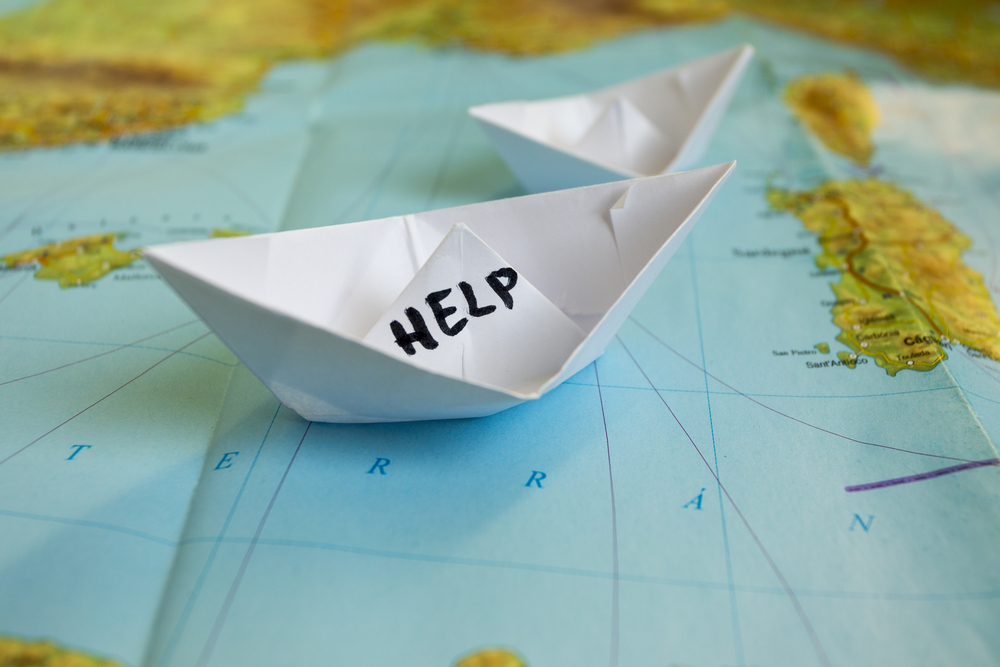 Often, the initial aftermath of a crisis moves us to respond generously to the dramatic need, especially when it's highly publicized. However, we have short memories. New things crowd our days and we become preoccupied with whatever is hottest and most recent, forgetting that there are still people struggling to survive out there.
Well, we wanted to give an updated report on the refugee crisis. The wheels on these things turn slowly, and it's still an ongoing process that needs all the support and help it can get!
Half of Syria's Population is Displaced
In the worst mass exodus since the Rwandan genocide 20 years ago, we're seeing completely unprecedented numbers of people escaping intolerable conditions in their home country. Over 5 million Syrians (a country which, prior to the outbreak of their civil war in 2011, had a population of about 11 million) are fleeing their homes, seeking shelter in neighboring nations, or farther abroad through resettlement programs.
It's estimated that about 250,000 people have died so far in the country's civil war. Half of that number are civilians. The need to relocate is so urgent that people are dying trying to get out. According to the IOM, almost 4,000 migrants died in 2015 trying to cross the Mediterranean.
Where Are They Headed?
Although we see a lot of focus on displacement camps, the vast majority of migrants are living in large cities in neighboring countries. Turkey currently holds the most Syrian refugees, an estimated 2.5 million people. Of course, Turkey itself is struggling, and refugees are in unstable, unsafe conditions. Jordan hosts over one million refugees. And Iraq, where over 3 million people are already displaced internally, has about a quarter of a million refugees from Syria.
Amnesty International reports that, due to severe funding shortages, we're unable to give these displaced families the help they need. Refugees in Lebanon are receiving only 70 cents a day to live off of, less than half of what's required to live above the UN's poverty line. And since their applications for official amnesty and resettlement take a long time, they're unable to legally work to survive.
Although many countries in the EU are stepping up to provide placement and asylum for displaced families, pledges from various nations only provide admittance for about 3.6% of refugees, while at least 10% of them are in urgent need of resettlement.
America's Role in the Refugee Crisis
Obviously, America's role in the refugee crisis is a hotly contested issue, especially with the upcoming presidential election. But for those who are curious about the numbers, here they are:
As stated above, close neighbors to Syria like Turkey and Lebanon are hosting millions of refugees. The EU (and Norway and Sweden, who are not members of the EU) have processed over a million claims for amnesty. However, there are many more in countries throughout the EU who have not yet gone through the application process for amnesty. Germany alone reports up to a million refugees currently within their borders (although, of course, not all of these are from Syria alone).
Meanwhile, America this year has accepted a little over 1,000 refugees from Syria, far below our pledge of 10,000. Admittedly, the application for resettlement and Amnesty is a long process, taking up to two years to resolve, and existing infrastructure is ill-equipped to deal with the number of applications that have flooded in. America accepts 80,000 refugees from various countries each year, providing placement, allowance, and support until families are able to find their footing in a new country.
Grace House Children's Project Heals and Empowers Children
The need for help hasn't stopped, or even slowed. According to the UN, 50% of Syrian refugees are under the age of 18. Here at Grace House Children's Project, we treat victims of trauma both at home and abroad. We believe in using time-tested and evidence-based methods to help victims heal and recover. We believe that children who have been robbed of their homes should be given the opportunity not just to survive, but to thrive. Learn more to see how you can get involved.